The Journal | Gazz Hunter Integrity Tattoo Lounge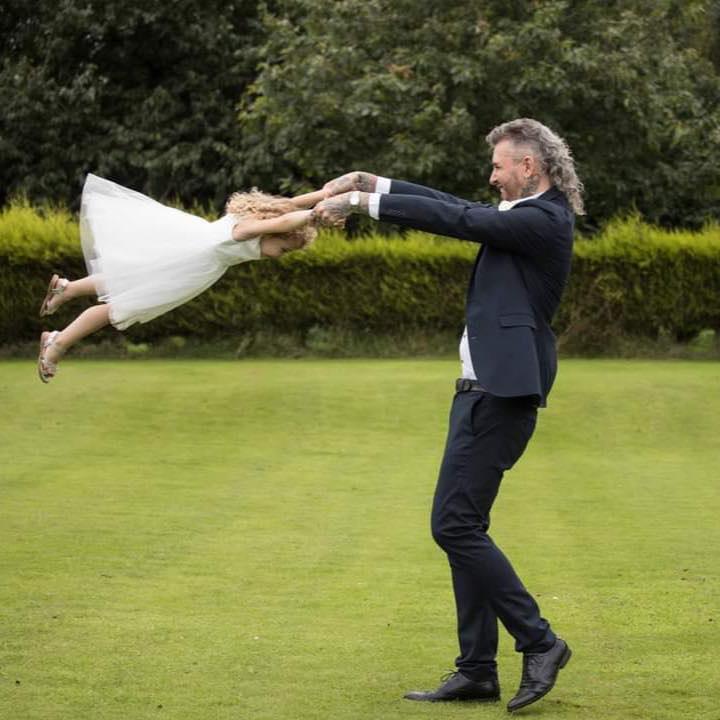 The older I get, the more inclined I am to accept that I am not in control as much as I'd like to be. Things seemingly do happen for a reason with events taking place or paths intertwining with people you've lost touch with. In a previous life, I was a part of a thriving Leeds music scene centred around so many genres and talented people. They were usually born from the student scene of LS6 rather than the suburbs from where I was raised. Gazz Hunter was a regular on the scene, unmissable through his imposing stature and through being one of the genuinely nicest guys you will ever meet.
For those who don't know Gazz Hunter, can you describe who you are?
Hi, I'm Gazz - Owner and Tattoo Artist at The Integrity Tattoo Lounge in Ossett. I'm 33, a husband and dad to a three year old girl.
Our paths crossed many moons ago in previous lives as musicians. Is this something you still do?
They sure did. I have really fond memories of those days. I don't write music or play in a band anymore. I still try and make some time to play guitar but having a busy work schedule and a young family, I don't get much chance to keep the chops up like I used to do. Music is still a massive part of my life though, I listen to music all day everyday. When I'm tattooing, drawing, driving. It's still a huge part of my life.
When did you start tattooing? Who or what inspired you?
I started tattooing full time in 2006/7. Like a lot of small businesses, I phased it into my life whilst trying to keep a steady income via other means. I worked Fridays and Saturdays at a studio in Dewsbury and then eventually built up to full time. I was inspired heavily from studying Japanese artwork at art college, I had friends and associates in the music scene that had a lot of Japanese style tattoos so the two interests sort of overlapped and set me on that path.
Can you remember the first tattoo you did?
I remember it vividly, I tattooed a koi fish on my dad and then some lettering on a mates arm the next day. The first tattoos you do don't leave your memory quick, it's one of the only times you're more nervous than the client!
I think these days more than ever, tattoos are firmly more 'accepted' than ever before. Do you see a wide demographic booking in with you?
Absolutely. I totally agree, tattooing is big nowadays so naturally a lot more people are seeing them and becoming more accepting of them. We tattoo all types of people from different backgrounds. We've had artists, labourers, consultants, police officers, company directors, great grandparents and everything in-between. Tattooing is one of the oldest professions so it's certainly here to stay.
I'll always respect the good guys that pulled it out of the gutter in the 70's & 80's and turned it into what it is today. They showed the world that tattooing is an art form and a viable, honest business. On the flip side though, I do hope it's never "fully" accepted because tattooing should always be a bit rebellious. They'd almost lose some mystique if they became the total norm. I think there's a happy medium, haha.
I love hearing people's stories when they call to tell me about their jacket. I imagine you get a similar line of conversation. How does that feel? Do you feel pressure?
We do! A lot of people turn to tattoos for memorial reasons or to remember happy times. There's rarely a tattoo we do that doesn't have some deep meaning behind it. The Tattoo TV shows brought people in to the studio wanting to mark a major life event in their skin. We try and make the whole experience as positive as possible though, regardless of the reasoning behind it.
Your appointment should be something to look forward to! There was a day early in my career where I had several appointments which were all memorial tattoos, it's hard to hear it sometimes but I've likened us to the bar tender cleaning the glasses at the end of the night.. it's part of the job!
How do you deal with clients who are adamant for something that is just plain terrible?
We try to arrange consultations face to face as much as we can. As useful as this digital age is, some things are better explained in person. Tattooing is a very personal experience, getting know someone better before we start the design process helps us get into their mind state. It's a careful balance of constructive criticism and reassurance that as a commissioned artist, it's not in our interest to do something that'll look bad. Thankfully we have a great clientele base from the local area and even further afield.
They've generally sought us out and are happy for us to almost take control of their ideas. Most things can be integrated into a tattoo design, believe it or not, it's just not always the way the client will have originally imagined it. The only things we flat out refuse are offensive, inappropriate or distasteful designs.
Who inspires your work?
I take a lot of inspiration from the guys I work with. We've got a great team of artists covering a lot of different styles. We all approach things in our own ways and it's fascinating to see how everyone's mind will interpret certain things. My ultimate inspiration in tattooing will always be Yoshito Nakano (Horiyoshi 3). I was fortunate enough to meet him and get tattooed by him in Japan when I travelled there with Phil. We started Integrity together and it was great that we travelled Japan and got to meet him. I was almost a little starstruck.
You've spent a lot of time in Japan in the past, can you tell me more about that?
I could talk about Japan all day, haha. I first went to Tokyo in 2005, when I was 18. It was the first time I'd travelled alone and the first time I'd been out of Europe. I was totally lost from the minute I got there but I loved it. I managed to frequent a friendly bar close to my hotel so made some Japanese friends and absolutely fell in love with the city.
I went back to Tokyo 6 months later and spent just over a month there, I travelled the full country pretty much on the trains with two friends. We were able to go back shortly after that (with my soon to be wife) every six months. The majority of my own tattooing has been completed in Japan by a traditional Japanese artist named Horimasa. We started with my back, then front, and eventually full bodysuit. We did thirteen trips to Japan in throughout my late teens and into my twenties and I had about four sessions here in England when Horimasa travelled for conventions. I couldn't recommend visiting Japan enough.
You've always been a petrol head. I remember vividly being dropped home in your Capri way back. When we last spoke, you'd moved to two wheels. Where did that interest start and how did you end up owning a Harley?
I wish I'd had the foresight to keep those Capris, they're such a desirable car nowadays in the British Ford scene. I sold my last one in about 2008. I went through a string of American cars after the Capri's, I even imported one myself from Florida a few years ago. I found myself constantly chasing something I'm not sure I was ever going to find on four wheels. As much as I loved the American cars I always seemed to slip in to a routine with them and they'd eventually become just a "regular" car in my mind.
My wife had always been understandably hesitant with motorcycles, I spent a lot of time appreciating bikes from a safe distance, but during the lockdown last year we talked about it again and she'd obviously decided I'd reach my maximum level of maturity and okayed the process of getting my licence. I bought a 125 following my CBT and rode to work on it throughout the summer. I loved it so I followed the "big bike" licence process then bought the Harley at the end of last year.
I'm a fan of anything with an engine but there's truly something inside the Harley Davidson engineering you can't explain, they're not reliable bikes, they're not particularly well built or over engineered but they have something you cant explain until you ride one. Taking the bike out really helps me decompress and it's been a great way for me to connect with other riders that have become friends. I've found a bond from riding with other people too, it's almost a bit ritualistic. It's not just another vehicle in-front or behind you, you feel weirdly connected when group riding. My dads recently moved onto bikes after several years riding scooters, my brother is in the process of getting his licence too. It's something we're looking forward to doing together in the coming years.
What next for Gazz Hunter?
I've always struggled with that question. People closest to me know that I can be drastically impulsive, haha. Since our daughter came along though, I have started to slow down with major life decisions and try take a bit more time over certain choices. The pandemic and lockdowns have been a very grounding series of events for us, it's made me appreciate so much at home and at the studio. For the foreseeable, keeping the family happy and healthy and making sure the studio is continuing to thrive. After that, definitely a nice holiday, haha!
Emley Moor Mast or Armley Gyratory?
Armley Gyratory, through and through!