The Journal | Alessandro Squarzi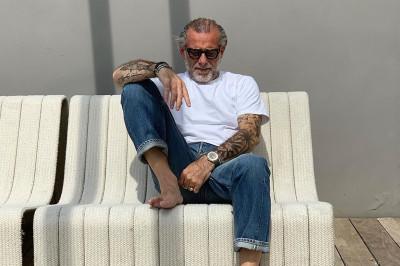 In our second addition of The Journal, we welcome Alessandro Squarzi. A name familiar to many and a portfolio of shots familiar to more. Alessandro makes it look all too easy in front of a lens. Sartorially speaking, his peers are few and far between.
Alessandro, it's an absolute pleasure to speak with you. Where in the world do we find you today?
It's a pleasure be with you today. Right now I'm in Brescia to start the Mille Miglia with a Fiat Ermini 1100 Barchetta from the '50s. So for the next four days I'll be driving cross Italy. For the rest, most of my time, after Covid, I'm based between Milan and Forli where I have my horses.
For people not familiar with your work, can you explain a little about what you do?
I define myself a "startupper" of new brands, meaning: thanks to my skills of entrepreneur, my passion for vintage and my taste for clothing, I create new brands to launch in the market. Fortela was born for this reason, I sow a gap on the market and I had a vision to create a new brand inspired to a classic vintage world, with a spasmodic attention to quality, fabrics and details.
What drives your love for vintage clothing?
I was born with this passion. From my childhood, also driven from the fact that I couldn't afford everything I wanted, I was looking for vintage Levis, Military jackets, leather "Buco" and so on. So I created my own style.
From my home in West Yorkshire, I have always looked to Italy through a romantic lens. From the great road cyclists to the football stars of the 1990's, it's a country that always oozes with style. Am I right? If so, why do you think this is?
Italians are inventors and discoverers. This is our nature, we created icons that changed the way of living worldwide: transportations with Ferrari and Vespa, food with pasta and pizza, hobbies with Football, arts with Giotto, Michelangelo, Leonardo Da Vinci, cinema with Fellini, hand gestures and of course also fashion. "Be Italian" cross all countries means be stylish, romantic, devoted to family roots, with a fanatical passion for the beauty.
I remember reading a quote about you never dressing for the weather. If not the weather, what inspires your style? Is it occasion, function or does none of that come into consideration?
I have just one rule: dress for myself, I choose what makes me happy that day…So I'm able to dress a denim shirt during a wedding, just under a burgundy custom linen tailored dress, and be the happiest of the party.
Who are your style icons?
Marcello Mastroianni, Totò, De Sica…Steve McQueen…and of course my father.
What 'rules' do you try to maintain when putting together an outfit or wardrobe?
To be coherent with myself. And again, dress what makes me happy.
Readers will likely have seen you on many street style pieces and I know first hand how great an inspiration these articles are for many. How does it feel to be an inspiration to people all over the world?
I started to be "popular" thanks to Scott Schuman during Pitti, and it was totally accidentally. What made the difference was the interaction with my followers, they took me as in inspiration as lifestyle not just clothes, asking me questions about any topics of their day by day life, suggestions about how to dress during their most important days…And for me that makes the difference to be an inspirator rather than an influencer.
Your story is one of real inspiration. Starting your career as a retail assistant in 1992 to where you are today. What have been the biggest lessons for you through that journey?
Be humble and never stop to learn. Keep the eyes of a child every morning, but with the experience of a man.
What, if any, advice would you give someone wanting to follow in your footsteps?
Be brave, if you think too much about the consequences you will never start the journey. Be brave to jump into your dreams.
Can you tell me about Fortela?
Fortela is 100% my "baby". There is my sign in any piece. All garments are tailored exclusively in Italy with the collaboration of expert Japanese craftsmen.The result: an array of totally unique fabrics and tailoring that you won't find anywhere else in the world. Fortela brings together tailoring at its finest, ultra-Italianstyle, ultra-Italian tradition and top-quality fabrics – some of which are especially created on antique Japanese looms, others from genuine army surplus and non-military stock.
What next for Alessandro?
Ah, my next dream is to be a good horse rider and win some races, I told you that I still (am) a child!
Best coffee in Milan?
Pasticceria Marchesi in Montenapoleone…you have a 360° customer experience, from the place, the furniture, the waiter dressed in Prada, and of course the best Veneziana croissant with your coffee.