The Journal | David Evans | GreyFoxBlog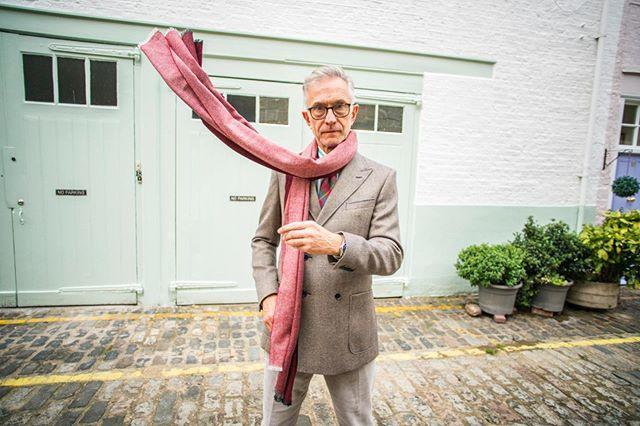 From the outside looking in, I would describe you as a style blogger, model, country gent and purveyor of the finer things. In your own words, how would you describe yourself?
Thank you - I suppose that's a fair summary, although I don't really like to call myself a model as I very, very rarely take part in fashion shows or photoshoots. What I'm trying to do is explore style so that my audience can decide for themselves what brands, products and looks they like. I make many mistakes in styling looks, but that's the whole idea.
What inspired you to start your blog?
I wanted to write a book and thought a blog would be a good place to start. I had no idea what to blog about (I had no prior menswear or fashion experience) until I decided to write about an older man's search for style and the issues around knowing what to wear and where to buy it. I had a lucky break when Polly Vernon, writing for The Times, discovered the blog and a 5 page feature in The Times magazine one Saturday boosted the following at a time when I was wondering how long I'd go on for. I haven't really looked back since.
I personally believe that anything that stems from passion is something that will always have 'legs'. Your blog and Instagram page deliver passion in abundance. Is that a conscious decision? Is it easy or do you have to really motivate yourself some days?
Thank you. I'm not sure that passion comes from conscious decision - I love what I do and don't find it hard to get motivated. I have recently found it harder to feature the wide range of clothes and products I'd like to - but if some brands are not wanting coverage from me there is still more than enough to do, especially in looking at sustainable brands and vintage products and thinking about the way forward for consumers of men's style products.
As someone who used to be an avid reader of magazines, I couldn't tell you the last time I actually read one. Do you think blogs like yours have played a part in seeing people move away from print?
You're asking someone who writes a regular column in The Chap magazine, which seems to do well as a print mag. I believe people like the feel and permanence of print; the content may soon get out of date, but looking at everything on a screen has many disadvantages and I personally read more books and magazines than I do blogs. I think print publications also have an honesty and accuracy that can be lacking in blogs and social media where people can, and often do, write absolute rubbish or simply repeat unchecked information that circulates to the extent that inaccuracies are considered the truth. We've seen how social media now gives emotional outbursts greater credibility than even scientific fact or information from reliable new outlets, and that's easier to avoid in print publications.
Who are your personal style icons and/or brands?
I don't really have any specific icons. Style is an amalgam of many influences and I look at so many things, from social media, through books and mags, art and even just finding pattern and texture in nature, that I can't really identify any one person I look at to the exclusion of others. It's the same with brands and I can only really talk about brands I can afford to buy and own or those that have been kind enough to work with me over the years. In terms of quality, I have suits from Dege & Skinner, shirts from Budd, I like the slightly quirky styles of New & Lingwood and there are many small brands, especially those that manufacture here in the UK, that I love and recommend on Instagram.
Do you think style can only be achieved through high investment? For instance, can someone attain 'style' with a small budget?
Yes they certainly can. Buying fewer high quality items is a much easier way to style than buying piles of cheap products which always disappoint in terms of fit and durability. It's a question of saving up and investing for style. A more immediately affordable way of doing this is to buy vintage and have clothes altered to fit well.
I always feel the basis for style is comfort and fit but I am a practical soul! Someone who looks comfortable in the correct fitting white t-shirt and jeans appeals more than an ill fitting Tom Ford suit. What are your key pointers when it comes to style?
I absolutely agree. Fit is the most important part of style - in general; there are some who will wear oversized clothes and look good in them, but a general rule is to buy things that fit perfectly or have them altered. The problem is that men often don't know what good fit is - or aren't even aware it exists. The days of high street menswear stores being manned by assistants who knew all this and would help a consumer buy something that fits well are long, long gone. As you suggest, the most expensive clothes won't look right if they don't fit properly, so good advice or knowledge is very important. In general, stores selling quality goods will have knowledgeable assistants, but this isn't always the case, so finding a store or brand you can trust is important.
What's your view on fast fashion and the impact on the environment?
It shocks me how much clothing is bought, never worn and ends up in landfill. It's up to us as consumers to buy sustainably. Understandably, brands want to prosper and survive - that means making profits and that can mean cutting corners in terms of paying employees, sourcing materials and making products. Where corners are cut both people and the environment suffer. There is no incentive on brands to behave sustainably unless consumers refuse to buy from them unless they mend their ways - and in general that's not happening as most consumers just want to buy lots as cheaply as possible. We have to get people out of the habit of shopping as a hobby and into the way of buying good quality, sustainable products.
You are clearly an advocate for quality, do you believe that quality is an investment?
Yes I do. The view that something cheap is a bargain is often misguided. Cheap clothing doesn't last or fit properly or look good. It is cheap for all for those reasons and often because the people making it haven't been well paid or treated. I appreciate that not everyone can buy good quality clothing, but investing in products that last has obvious benefits and we must begin to end the commonly held view that cheap is best. Good quality clothing can be repaired and it acquires a wonderful patina of age meaning that it takes on the stamp of its owner so increasing the pleasure of ownership.

How do you feel about the second hand fashion market? Is this something you look at? In recent months you have been sharing some great pieces on denim jackets.
I'm getting into vintage clothing in a big way. High quality tailoring, casual clothes and knitwear can all be bought at fair prices. Those who shun wearing secondhand clothes can be reassured that a good clean and, where needed, alterations and mending result in superb good quality bargains.
With the green agenda bigger than ever, do you think we will see more designers like Christopher Raeburn looking to recreate from old stock in future?
I hope so. I think we need to be careful to accept brands' claims to green credibility with some care. Christopher Raeburn has obvious credentials here, making his clothes in the UK from pre-used products. However, there is a lot of 'greenwashing' from some brands who may, for example, introduce one green product and then claim sustainability credentials for themselves which are totally undeserved. As consumers, as I said before, it's up to us to refuse to buy from brands that are not demonstrably sustainable throughout their manufacturing and supply chains. They will then have to change their ways or go under.
What next for both David and Grey Fox blog?
Certainly I want to explore the sustainability agenda more. I also worry about doing so much to persuade people to buy stuff and want to row back on that a bit - emphasising the need to buy less and buy well and have clothes repaired and reworked rather than throwing away or buying new. I'm also working on a major project which, if it comes to anything, I'll announce in due course.
New defender or old defender?
I have both so will keep both! However, for pure practicality the new Defender is unbeatable and I don't subscribe to the sheeplike 'let's bash the new Defender' mentality of many of the old guard, most of whom, I suspect, have never driven the new car.